6X Bosch Fuel Injectors For 87-98 JEEP Wrangler 4.0L OEM 0280155700 EV1 4 hole
| | |
| --- | --- |
| Brand/Part #: | Bosch 0280155710-6 sea |
| Location: | Brookyn,NY, US |
| Ship To Locations: | Worldwide - FREE SHIPPING |
6X Bosch Fuel Injectors For 87-98 JEEP Wrangler 4.0L OEM 0280155700 EV1 4 hole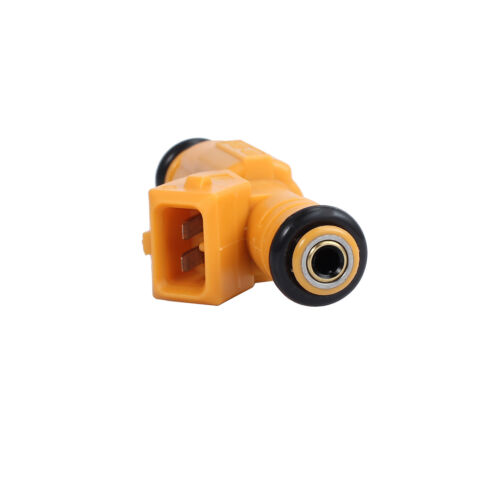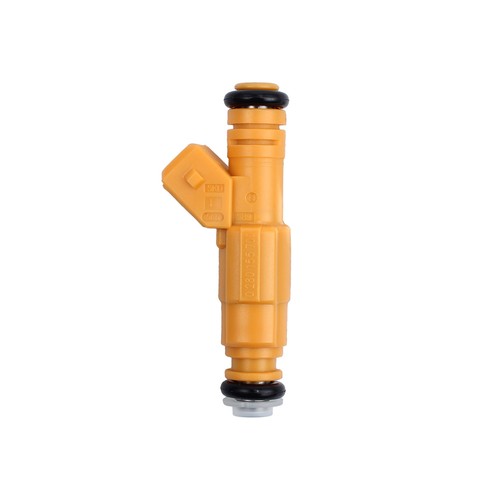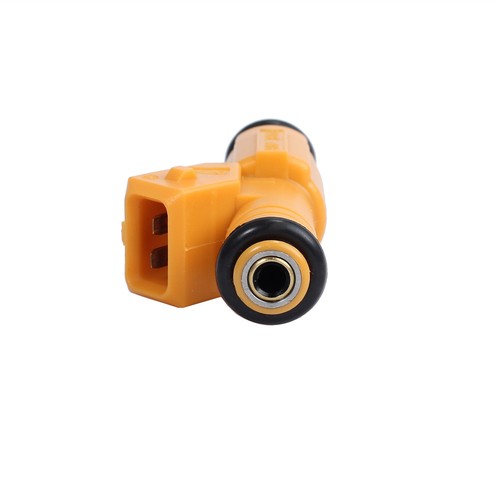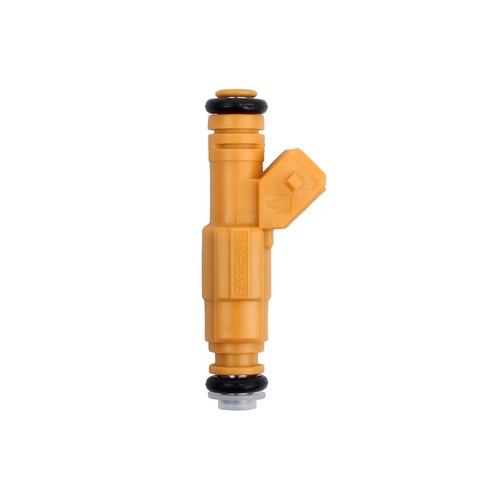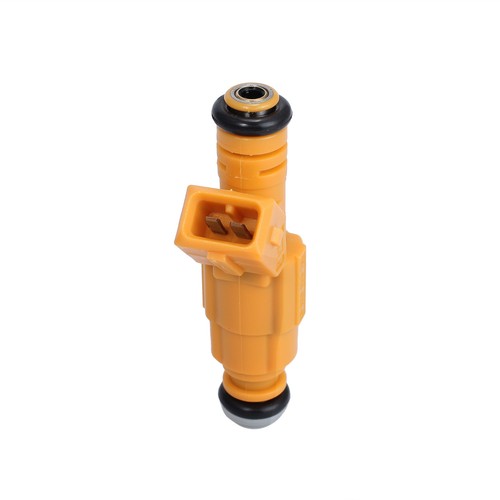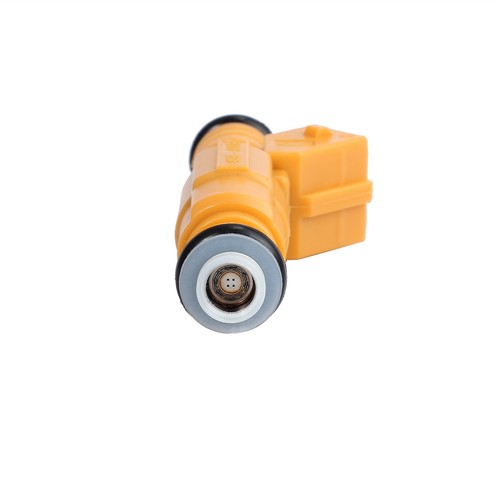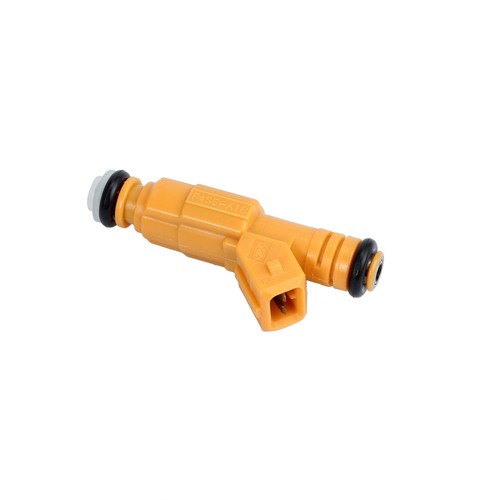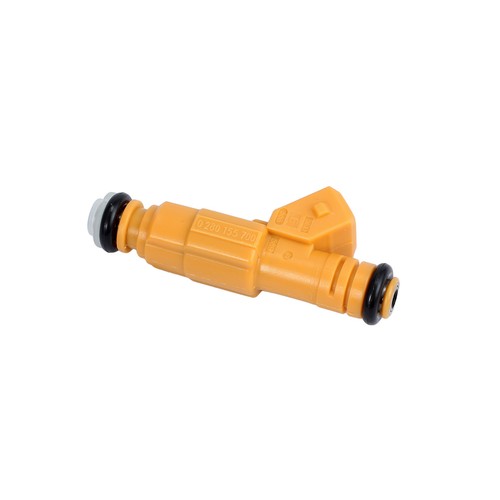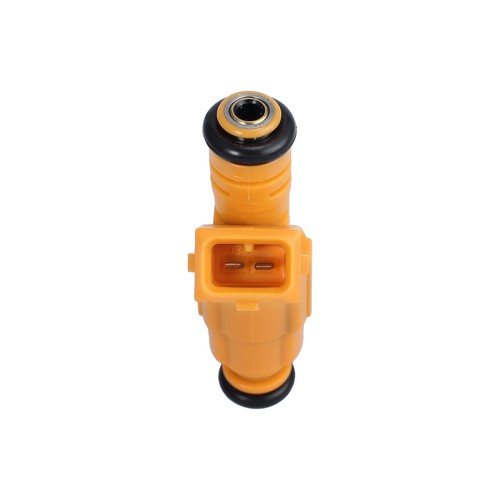 Product Description
Specification:
These fuel injectors are not made by the original equipment manufacturers.
They have been 100% tested and exactly match the internal coil resistance and fuel flow rate of OEM fuel injectors.
The individual flow characteristics and fuel atomization of above fuel injectors are almost same to or superior to the OEM and will help accelerate response time,save gasoline and improve MPG.

Description:
Quantity: 6x Fuel Injectors
Condition: 100% BRAND NEW
O-Rings Included: Yes, preinstalled
Orifice Type: 4 hole
Connector Type: EV1
Injector Design: Metal & composite plastic
Filter Design: Basket filter design at inlet
Flow matched 2%

Manufacturer Part Number/OE(OEM) Number:
0280155710, 0280155700
Fitment:
Jeep Cherokee 1989-1998
Jeep Grand Cherokee 1993-1998
Jeep Wrangler 1991-1998
Jeep Comanche 1987-1991
Note:
1.They may also fit other years and models, buyer should cross reference the number to make sure that they fit their vehicle before purchasing.
2. We provide clear pictures, measurement where possible. Please check as much as possible to make sure the item is the one that you need.
3. No instruction in the package, professional installation is Highly Recommended.
*Your item will be carefully packed and shipped within three business day after payment received.
*Orders are not processed on weekend & holidays.
*Buyer need express mail service or international shipping issues, please contact us before placing the order.
*Local pick-up is unavailable at the moment.
Feedbacks are important not only to the seller but also buyer as well. If the transaction is to your liking, a positive feedback& 5star DSR is greatly appreciated. We welcome honest feedbacks.
But please do NOT leave any negative feedbacks before contacting us for resolution. After all, customer satisfaction is our No.1 goal!
We afford all cost if it's our fault. Exchange or refund.
We are an experienced company working on E-commerce for years. Custmer satisfaction is our NO.1 goal.
if you have any question ,welcome to contact us at once .we can help you !thank you !
Restocking Fee: No
Returns Accepted: Returns Accepted
Item must be returned within: 30 Days
Refund will be given as: Money Back
Return shipping will be paid by: Seller
Other Part Number: 0280155700
Warranty: 1 Year
Number of Pieces: 6
Color: AS PICTURES
Fitment Type: Direct Replacement
Flow matched: 2%
Manufacturer Part Number: 0280155710
Filter Design: Basket filter design at inlet
O-Rings Included: Yes, preinstalled
Superseded Part Number: 0280155710
Connector type: EV1
Brand: Bosch
Type: Fuel Injector
Interchange Part Number: 0280155710
Fitment: Jeep
Orifice Type: 4 hole
Surface Finish: Brand new
Injector Design: Metal & composite plastic
UPC: 610877463909
SKU: 0280155710-6 sea
6X Bosch Fuel Injectors For 87-98 JEEP Wrangler 4.0L OEM 0280155700 EV1 4 hole fits on the following vehicles. This is for your reference only, please check your auto manual to make sure it fits.
YEAR
MAKE
MODEL
TRIM
NOTES
1998
Jeep
Cherokee
Classic Sport Utility 4-Door 4.0L 242Cu. In. l6 GAS OHV Naturally Aspirated
1998
Jeep
Cherokee
Limited Sport Utility 4-Door 4.0L 242Cu. In. l6 GAS OHV Naturally Aspirated
1998
Jeep
Cherokee
SE Sport Utility 2-Door 4.0L 242Cu. In. l6 GAS OHV Naturally Aspirated
1998
Jeep
Cherokee
SE Sport Utility 4-Door 4.0L 242Cu. In. l6 GAS OHV Naturally Aspirated
1998
Jeep
Cherokee
Sport Sport Utility 2-Door 4.0L 242Cu. In. l6 GAS OHV Naturally Aspirated
1998
Jeep
Cherokee
Sport Sport Utility 4-Door 4.0L 242Cu. In. l6 GAS OHV Naturally Aspirated
1998
Jeep
Grand Cherokee
Laredo Sport Utility 4-Door 4.0L 242Cu. In. l6 GAS OHV Naturally Aspirated
1998
Jeep
Grand Cherokee
Limited Sport Utility 4-Door 4.0L 242Cu. In. l6 GAS OHV Naturally Aspirated
1998
Jeep
Grand Cherokee
TSi Sport Utility 4-Door 4.0L 242Cu. In. l6 GAS OHV Naturally Aspirated
1998
Jeep
Wrangler
Sahara Sport Utility 2-Door 4.0L 242Cu. In. l6 GAS OHV Naturally Aspirated
1998
Jeep
Wrangler
Sport Sport Utility 2-Door 4.0L 242Cu. In. l6 GAS OHV Naturally Aspirated
1997
Jeep
Cherokee
Country Sport Utility 4-Door 4.0L 242Cu. In. l6 GAS OHV Naturally Aspirated
1997
Jeep
Cherokee
SE Sport Utility 2-Door 4.0L 242Cu. In. l6 GAS OHV Naturally Aspirated
1997
Jeep
Cherokee
SE Sport Utility 4-Door 4.0L 242Cu. In. l6 GAS OHV Naturally Aspirated
1997
Jeep
Cherokee
Sport Sport Utility 2-Door 4.0L 242Cu. In. l6 GAS OHV Naturally Aspirated
1997
Jeep
Cherokee
Sport Sport Utility 4-Door 4.0L 242Cu. In. l6 GAS OHV Naturally Aspirated
1997
Jeep
Grand Cherokee
Laredo Sport Utility 4-Door 4.0L 242Cu. In. l6 GAS OHV Naturally Aspirated
1997
Jeep
Grand Cherokee
Limited Sport Utility 4-Door 4.0L 242Cu. In. l6 GAS OHV Naturally Aspirated
1997
Jeep
Grand Cherokee
TSi Sport Utility 4-Door 4.0L 242Cu. In. l6 GAS OHV Naturally Aspirated
1997
Jeep
Wrangler
Sahara Sport Utility 2-Door 4.0L 242Cu. In. l6 GAS OHV Naturally Aspirated
1997
Jeep
Wrangler
Sport Sport Utility 2-Door 4.0L 242Cu. In. l6 GAS OHV Naturally Aspirated
1996
Jeep
Cherokee
Classic Sport Utility 4-Door 4.0L 242Cu. In. l6 GAS OHV Naturally Aspirated
1996
Jeep
Cherokee
Country Sport Utility 4-Door 4.0L 242Cu. In. l6 GAS OHV Naturally Aspirated
1996
Jeep
Cherokee
SE Sport Utility 4-Door 4.0L 242Cu. In. l6 GAS OHV Naturally Aspirated
1996
Jeep
Cherokee
Sport Sport Utility 2-Door 4.0L 242Cu. In. l6 GAS OHV Naturally Aspirated
1996
Jeep
Cherokee
Sport Sport Utility 4-Door 4.0L 242Cu. In. l6 GAS OHV Naturally Aspirated
1996
Jeep
Grand Cherokee
Laredo Sport Utility 4-Door 4.0L 242Cu. In. l6 GAS OHV Naturally Aspirated
1996
Jeep
Grand Cherokee
Limited Sport Utility 4-Door 4.0L 242Cu. In. l6 GAS OHV Naturally Aspirated
1995
Jeep
Cherokee
SE Sport Utility 2-Door 4.0L 242Cu. In. l6 GAS OHV Naturally Aspirated
1995
Jeep
Cherokee
SE Sport Utility 4-Door 4.0L 242Cu. In. l6 GAS OHV Naturally Aspirated
1995
Jeep
Cherokee
Sport Sport Utility 2-Door 4.0L 242Cu. In. l6 GAS OHV Naturally Aspirated
1995
Jeep
Cherokee
Sport Sport Utility 4-Door 4.0L 242Cu. In. l6 GAS OHV Naturally Aspirated
1995
Jeep
Grand Cherokee
Laredo Sport Utility 4-Door 4.0L 242Cu. In. l6 GAS OHV Naturally Aspirated
1995
Jeep
Grand Cherokee
Limited Sport Utility 4-Door 4.0L 242Cu. In. l6 GAS OHV Naturally Aspirated
1995
Jeep
Grand Cherokee
Orvis Sport Utility 4-Door 4.0L 242Cu. In. l6 GAS OHV Naturally Aspirated
1995
Jeep
Grand Cherokee
SE Sport Utility 4-Door 4.0L 242Cu. In. l6 GAS OHV Naturally Aspirated
1995
Jeep
Wrangler
Sahara Sport Utility 2-Door 4.0L 242Cu. In. l6 GAS OHV Naturally Aspirated
1995
Jeep
Wrangler
SE Sport Utility 2-Door 4.0L 242Cu. In. l6 GAS OHV Naturally Aspirated
1994
Jeep
Cherokee
Country Sport Utility 2-Door 4.0L 242Cu. In. l6 GAS OHV Naturally Aspirated
1994
Jeep
Cherokee
Country Sport Utility 4-Door 4.0L 242Cu. In. l6 GAS OHV Naturally Aspirated
1994
Jeep
Cherokee
SE Sport Utility 2-Door 4.0L 242Cu. In. l6 GAS OHV Naturally Aspirated
1994
Jeep
Cherokee
SE Sport Utility 4-Door 4.0L 242Cu. In. l6 GAS OHV Naturally Aspirated
1994
Jeep
Cherokee
Sport Sport Utility 2-Door 4.0L 242Cu. In. l6 GAS OHV Naturally Aspirated
1994
Jeep
Cherokee
Sport Sport Utility 4-Door 4.0L 242Cu. In. l6 GAS OHV Naturally Aspirated
1994
Jeep
Grand Cherokee
Laredo Sport Utility 4-Door 4.0L 242Cu. In. l6 GAS OHV Naturally Aspirated
1994
Jeep
Grand Cherokee
Limited Sport Utility 4-Door 4.0L 242Cu. In. l6 GAS OHV Naturally Aspirated
1994
Jeep
Grand Cherokee
SE Sport Utility 4-Door 4.0L 242Cu. In. l6 GAS OHV Naturally Aspirated
1994
Jeep
Wrangler
Renegade Sport Utility 2-Door 4.0L 242Cu. In. l6 GAS OHV Naturally Aspirated
1994
Jeep
Wrangler
Sahara Sport Utility 2-Door 4.0L 242Cu. In. l6 GAS OHV Naturally Aspirated
1994
Jeep
Wrangler
SE Sport Utility 2-Door 4.0L 242Cu. In. l6 GAS OHV Naturally Aspirated
1993
Jeep
Cherokee
Base Sport Utility 2-Door 4.0L 242Cu. In. l6 GAS OHV Naturally Aspirated
1993
Jeep
Cherokee
Base Sport Utility 4-Door 4.0L 242Cu. In. l6 GAS OHV Naturally Aspirated
1993
Jeep
Cherokee
Country Sport Utility 2-Door 4.0L 242Cu. In. l6 GAS OHV Naturally Aspirated
1993
Jeep
Cherokee
Country Sport Utility 4-Door 4.0L 242Cu. In. l6 GAS OHV Naturally Aspirated
1993
Jeep
Cherokee
Sport Sport Utility 2-Door 4.0L 242Cu. In. l6 GAS OHV Naturally Aspirated
1993
Jeep
Cherokee
Sport Sport Utility 4-Door 4.0L 242Cu. In. l6 GAS OHV Naturally Aspirated
1993
Jeep
Grand Cherokee
Base Sport Utility 4-Door 4.0L 242Cu. In. l6 GAS OHV Naturally Aspirated
1993
Jeep
Grand Cherokee
Laredo Sport Utility 4-Door 4.0L 242Cu. In. l6 GAS OHV Naturally Aspirated
1993
Jeep
Grand Cherokee
Limited Sport Utility 4-Door 4.0L 242Cu. In. l6 GAS OHV Naturally Aspirated
1993
Jeep
Wrangler
Base Sport Utility 2-Door 4.0L 242Cu. In. l6 GAS OHV Naturally Aspirated
1993
Jeep
Wrangler
Renegade Sport Utility 2-Door 4.0L 242Cu. In. l6 GAS OHV Naturally Aspirated
1993
Jeep
Wrangler
Sahara Sport Utility 2-Door 4.0L 242Cu. In. l6 GAS OHV Naturally Aspirated
1992
Jeep
Cherokee
Base Sport Utility 2-Door 4.0L 242Cu. In. l6 GAS OHV Naturally Aspirated
1992
Jeep
Cherokee
Base Sport Utility 4-Door 4.0L 242Cu. In. l6 GAS OHV Naturally Aspirated
1992
Jeep
Cherokee
Briarwood Sport Utility 4-Door 4.0L 242Cu. In. l6 GAS OHV Naturally Aspirated
1992
Jeep
Cherokee
Laredo Sport Utility 2-Door 4.0L 242Cu. In. l6 GAS OHV Naturally Aspirated
1992
Jeep
Cherokee
Laredo Sport Utility 4-Door 4.0L 242Cu. In. l6 GAS OHV Naturally Aspirated
1992
Jeep
Cherokee
Limited Sport Utility 4-Door 4.0L 242Cu. In. l6 GAS OHV Naturally Aspirated
1992
Jeep
Cherokee
Sport Sport Utility 2-Door 4.0L 242Cu. In. l6 GAS OHV Naturally Aspirated
1992
Jeep
Cherokee
Sport Sport Utility 4-Door 4.0L 242Cu. In. l6 GAS OHV Naturally Aspirated
1992
Jeep
Comanche
Base Standard Cab Pickup 2-Door 4.0L 242Cu. In. l6 GAS OHV Naturally Aspirated
1992
Jeep
Comanche
Eliminator Standard Cab Pickup 2-Door 4.0L 242Cu. In. l6 GAS OHV Naturally Aspirated
1992
Jeep
Comanche
Pioneer Standard Cab Pickup 2-Door 4.0L 242Cu. In. l6 GAS OHV Naturally Aspirated
1992
Jeep
Wrangler
Base Sport Utility 2-Door 4.0L 242Cu. In. l6 GAS OHV Naturally Aspirated
1992
Jeep
Wrangler
Islander Sport Utility 2-Door 4.0L 242Cu. In. l6 GAS OHV Naturally Aspirated
1992
Jeep
Wrangler
Renegade Sport Utility 2-Door 4.0L 242Cu. In. l6 GAS OHV Naturally Aspirated
1992
Jeep
Wrangler
Sahara Sport Utility 2-Door 4.0L 242Cu. In. l6 GAS OHV Naturally Aspirated
1991
Jeep
Cherokee
Base Sport Utility 2-Door 4.0L 242Cu. In. l6 GAS OHV Naturally Aspirated
1991
Jeep
Cherokee
Base Sport Utility 4-Door 4.0L 242Cu. In. l6 GAS OHV Naturally Aspirated
1991
Jeep
Cherokee
Briarwood Sport Utility 4-Door 4.0L 242Cu. In. l6 GAS OHV Naturally Aspirated
1991
Jeep
Cherokee
Laredo Sport Utility 2-Door 4.0L 242Cu. In. l6 GAS OHV Naturally Aspirated
1991
Jeep
Cherokee
Laredo Sport Utility 4-Door 4.0L 242Cu. In. l6 GAS OHV Naturally Aspirated
1991
Jeep
Cherokee
Limited Sport Utility 4-Door 4.0L 242Cu. In. l6 GAS OHV Naturally Aspirated
1991
Jeep
Cherokee
Sport Sport Utility 2-Door 4.0L 242Cu. In. l6 GAS OHV Naturally Aspirated
1991
Jeep
Cherokee
Sport Sport Utility 4-Door 4.0L 242Cu. In. l6 GAS OHV Naturally Aspirated
1991
Jeep
Comanche
Base Standard Cab Pickup 2-Door 4.0L 242Cu. In. l6 GAS OHV Naturally Aspirated
1991
Jeep
Comanche
Eliminator Standard Cab Pickup 2-Door 4.0L 242Cu. In. l6 GAS OHV Naturally Aspirated
1991
Jeep
Comanche
Pioneer Standard Cab Pickup 2-Door 4.0L 242Cu. In. l6 GAS OHV Naturally Aspirated
1991
Jeep
Wrangler
Base Sport Utility 2-Door 4.0L 242Cu. In. l6 GAS OHV Naturally Aspirated
1991
Jeep
Wrangler
Islander Sport Utility 2-Door 4.0L 242Cu. In. l6 GAS OHV Naturally Aspirated
1991
Jeep
Wrangler
Renegade Sport Utility 2-Door 4.0L 242Cu. In. l6 GAS OHV Naturally Aspirated
1991
Jeep
Wrangler
Sahara Sport Utility 2-Door 4.0L 242Cu. In. l6 GAS OHV Naturally Aspirated
1990
Jeep
Cherokee
Base Sport Utility 2-Door 4.0L 242Cu. In. l6 GAS OHV Naturally Aspirated
1990
Jeep
Cherokee
Base Sport Utility 4-Door 4.0L 242Cu. In. l6 GAS OHV Naturally Aspirated
1990
Jeep
Cherokee
Laredo Sport Utility 2-Door 4.0L 242Cu. In. l6 GAS OHV Naturally Aspirated
1990
Jeep
Cherokee
Laredo Sport Utility 4-Door 4.0L 242Cu. In. l6 GAS OHV Naturally Aspirated
1990
Jeep
Cherokee
Limited Sport Utility 2-Door 4.0L 242Cu. In. l6 GAS OHV Naturally Aspirated
1990
Jeep
Cherokee
Limited Sport Utility 4-Door 4.0L 242Cu. In. l6 GAS OHV Naturally Aspirated
1990
Jeep
Cherokee
Pioneer Sport Utility 2-Door 4.0L 242Cu. In. l6 GAS OHV Naturally Aspirated
1990
Jeep
Cherokee
Pioneer Sport Utility 4-Door 4.0L 242Cu. In. l6 GAS OHV Naturally Aspirated
1990
Jeep
Cherokee
Sport Sport Utility 2-Door 4.0L 242Cu. In. l6 GAS OHV Naturally Aspirated
1990
Jeep
Comanche
Base Standard Cab Pickup 2-Door 4.0L 242Cu. In. l6 GAS OHV Naturally Aspirated
1990
Jeep
Comanche
Eliminator Standard Cab Pickup 2-Door 4.0L 242Cu. In. l6 GAS OHV Naturally Aspirated
1990
Jeep
Comanche
Pioneer Standard Cab Pickup 2-Door 4.0L 242Cu. In. l6 GAS OHV Naturally Aspirated
1989
Jeep
Cherokee
Base Sport Utility 2-Door 4.0L 242Cu. In. l6 GAS OHV Naturally Aspirated
1989
Jeep
Cherokee
Base Sport Utility 4-Door 4.0L 242Cu. In. l6 GAS OHV Naturally Aspirated
1989
Jeep
Cherokee
Laredo Sport Utility 2-Door 4.0L 242Cu. In. l6 GAS OHV Naturally Aspirated
1989
Jeep
Cherokee
Laredo Sport Utility 4-Door 4.0L 242Cu. In. l6 GAS OHV Naturally Aspirated
1989
Jeep
Cherokee
Limited Sport Utility 2-Door 4.0L 242Cu. In. l6 GAS OHV Naturally Aspirated
1989
Jeep
Cherokee
Limited Sport Utility 4-Door 4.0L 242Cu. In. l6 GAS OHV Naturally Aspirated
1989
Jeep
Cherokee
Pioneer Sport Utility 2-Door 4.0L 242Cu. In. l6 GAS OHV Naturally Aspirated
1989
Jeep
Cherokee
Pioneer Sport Utility 4-Door 4.0L 242Cu. In. l6 GAS OHV Naturally Aspirated
1989
Jeep
Cherokee
Sport Sport Utility 2-Door 4.0L 242Cu. In. l6 GAS OHV Naturally Aspirated
1989
Jeep
Comanche
Base Standard Cab Pickup 2-Door 4.0L 242Cu. In. l6 GAS OHV Naturally Aspirated
1989
Jeep
Comanche
Eliminator Standard Cab Pickup 2-Door 4.0L 242Cu. In. l6 GAS OHV Naturally Aspirated
1989
Jeep
Comanche
Pioneer Standard Cab Pickup 2-Door 4.0L 242Cu. In. l6 GAS OHV Naturally Aspirated
1988
Jeep
Comanche
Base Standard Cab Pickup 2-Door 4.0L 242Cu. In. l6 GAS OHV Naturally Aspirated
1988
Jeep
Comanche
Chief Standard Cab Pickup 2-Door 4.0L 242Cu. In. l6 GAS OHV Naturally Aspirated
1988
Jeep
Comanche
Eliminator Standard Cab Pickup 2-Door 4.0L 242Cu. In. l6 GAS OHV Naturally Aspirated
1988
Jeep
Comanche
Laredo Standard Cab Pickup 2-Door 4.0L 242Cu. In. l6 GAS OHV Naturally Aspirated
1988
Jeep
Comanche
Pioneer Standard Cab Pickup 2-Door 4.0L 242Cu. In. l6 GAS OHV Naturally Aspirated
1987
Jeep
Comanche
Base Standard Cab Pickup 2-Door 4.0L 242Cu. In. l6 GAS OHV Naturally Aspirated
1987
Jeep
Comanche
Chief Standard Cab Pickup 2-Door 4.0L 242Cu. In. l6 GAS OHV Naturally Aspirated
1987
Jeep
Comanche
Laredo Standard Cab Pickup 2-Door 4.0L 242Cu. In. l6 GAS OHV Naturally Aspirated
1987
Jeep
Comanche
Pioneer Standard Cab Pickup 2-Door 4.0L 242Cu. In. l6 GAS OHV Naturally Aspirated